On October 10th, 2020, the 25th Guangzhou International Lighting Exhibition (abbr: GILE) was grandly opened in China import and Export Fair Complex.
SHEN ZHEN MOSO ELECTRONICS TECHNOLOGY CO., LTD. (hereinafter called Moso) attended the exhibition with a number of new products. At the exhibition hall, Moso launched Navigator V10 - the industry's first digital intelligent power supply, providing an overall solution for distribution and management of intelligent light poles.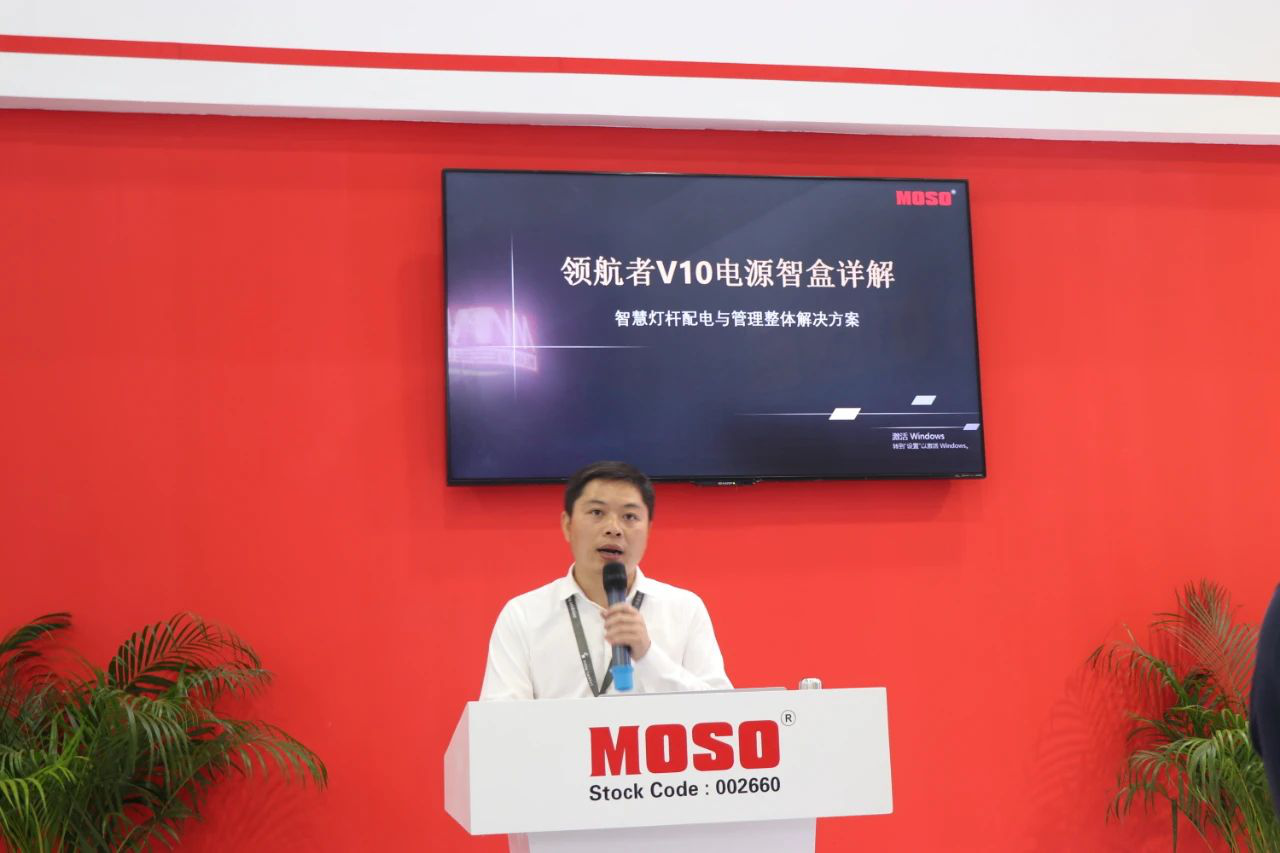 Mr. Hao Chen, product manager, shares the design concept of Navigator V10
Moso Navigator V10 is a highly integrated power supply management unit, with strong compatibility and expansion ability. It incarnates the "power distribution brain" of intelligent light pole and provides one-stop power supply management for intelligent lighting, 5g communication base station, security monitoring, environmental monitoring, broadcasting system, wireless WiFi and other integrated application terminals of multi-functional intelligent light pole, which can easily solve problems like disorderly wiring, poor maintainability, low reliability, high operating cost and non-intelligent management caused by independent power supply units.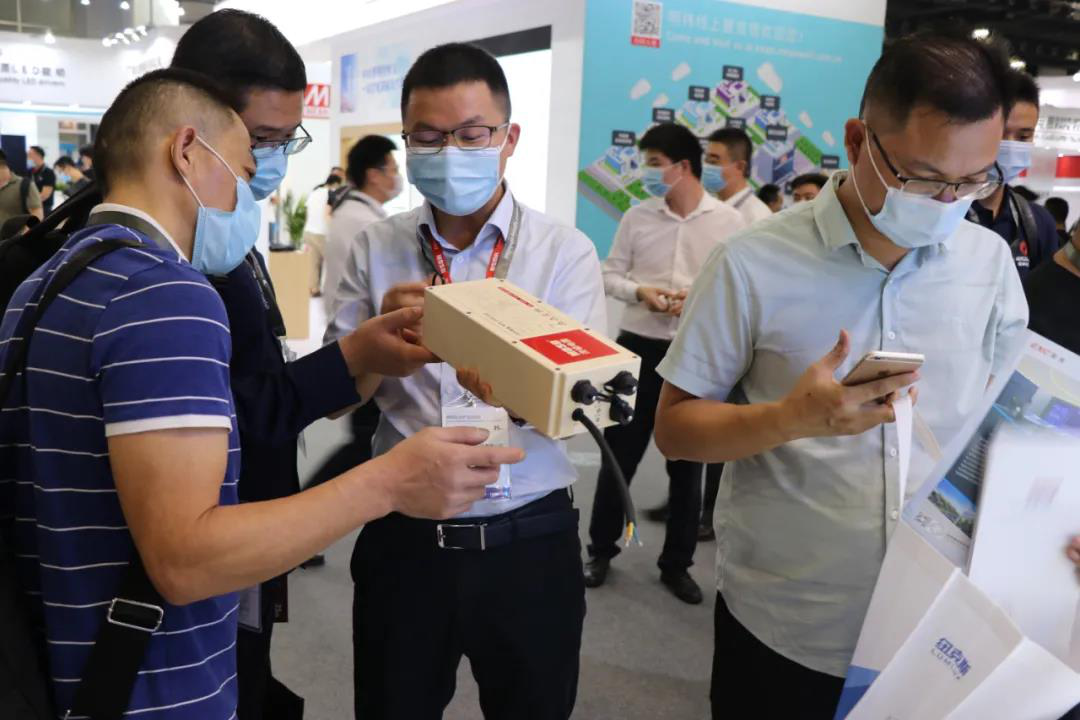 Navigator V10 has attracted high attention by vast audiences
In order to let the audience know more about the functions of Navigator V10, Moso and its strategic partner, EXC(www.exc-led.com), jointly set up an experience area with an intelligent light pole and supporting control system, which attracted numerous visitors come to experience.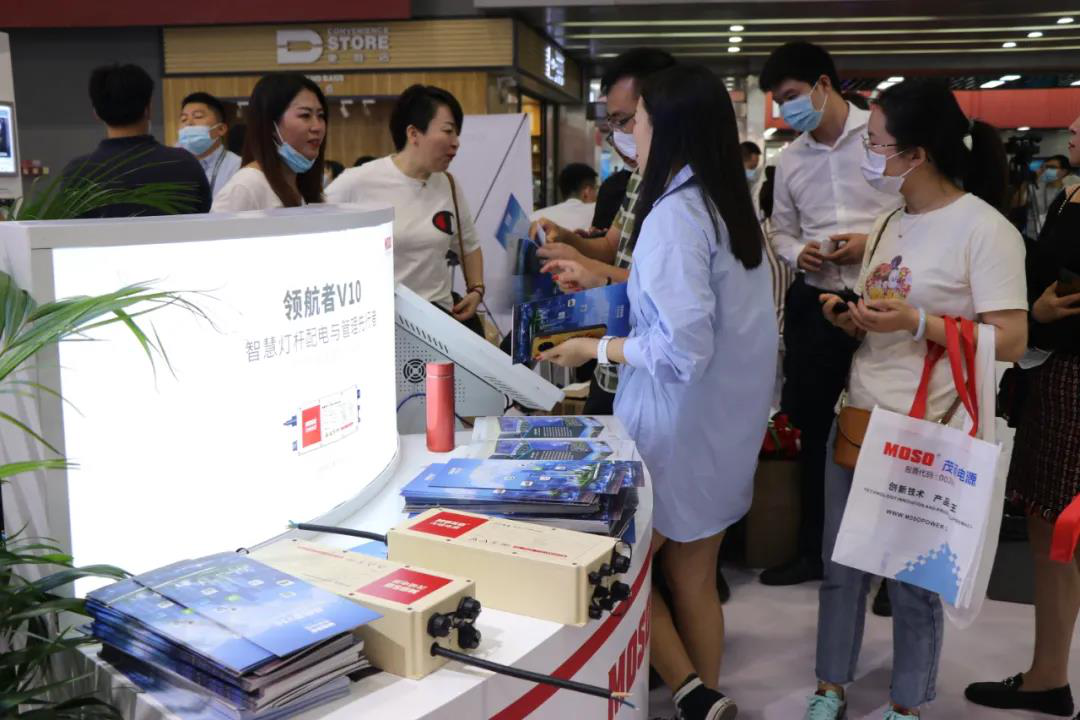 Experience area of Navigator V10
Besides Navigator V10, Moso also launched multiple new products such as U6 series with NFC programmable driver, XUP driver series for urban rail transit lighting, Non-isolated driver G6 series for industrial high bay lamp during the exhibition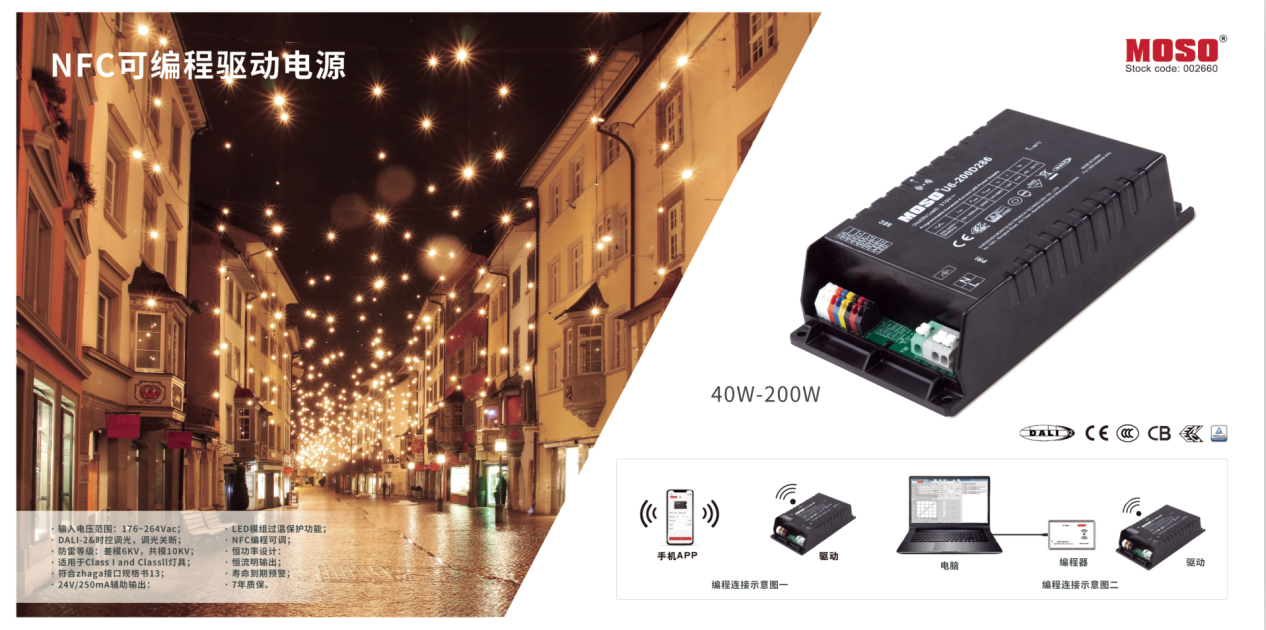 1. NFC programmable intelligent driver - U6 series
U6 series is an NFC programmable driver, which is developed mainly for the European market and meets the requirements of ZHAGA interface specification 13 and DALI-2. It is suitable for class I and class II lamps. The power supply has two programming methods: one is to connect NFC programmer with a computer for secondary configuration of parameters; the other is to install the corresponding APP on mobile phones. Both methods are easy to use and highly reliable.
2. New generation of non-isolated high bay driver - G6-AH series
The new generation of non-isolated driver - non-isolated high bay driver - G6-AH series cover from 96W to 240W. With new patented technology, it is the first non isolated driver for industrial and high bay lamp that can realize 100% shutdown without afterglow. According to the operating voltage range, the G6-AH series have a 100-277vac universal version and 120-347vac version for the North American market.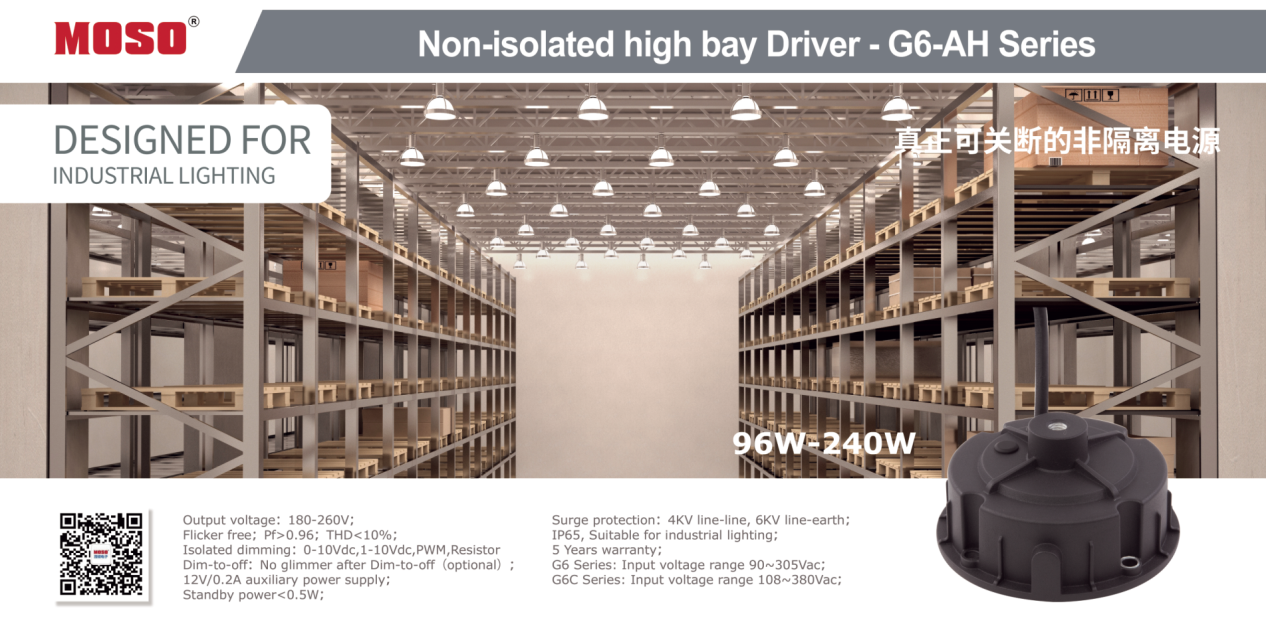 3. DALI-2 Programmable LED Driver - XUP series
XUP series intelligent lighting drivers adopt isolated design and developed for urban rail transit lighting, airports, or station lighting, which meet DALI-2 requirements.
Besides the above new products, Moso also released XCP Class II Series for the European market and MEP series for the explosion-proof drivers.
This booth layout is composed of Static Exhibition Area, New Product Experience Area, and Intelligent Experience Area.
In the Intelligent Experience area, the audience can understand the intelligent characteristics of the company's products through interaction. The main intelligent features include NFC control function (including APP function), offline programming, DALI-2 Control, and NB-IOT digital power intelligent characteristics meeting CSA-051 requirements.
At the same time, for those who cannot visit our booth, Moso organized two live broadcast sessions with Hong Bing, CEO of CALI-Light (http://www.cali-light.com/), and Mr. Peng Wei, Vice GM of Herculux (http://www.herculux.cn/), by asking and answering questions, we share the concept of products with online audiences.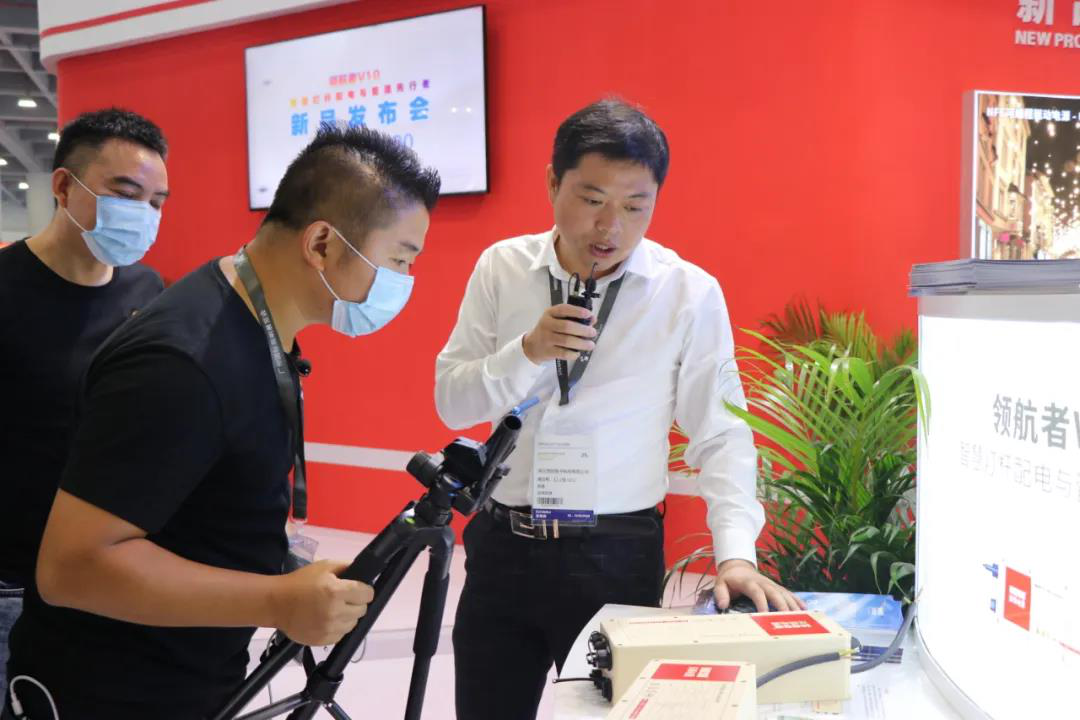 Live webcast sharing Navigator V10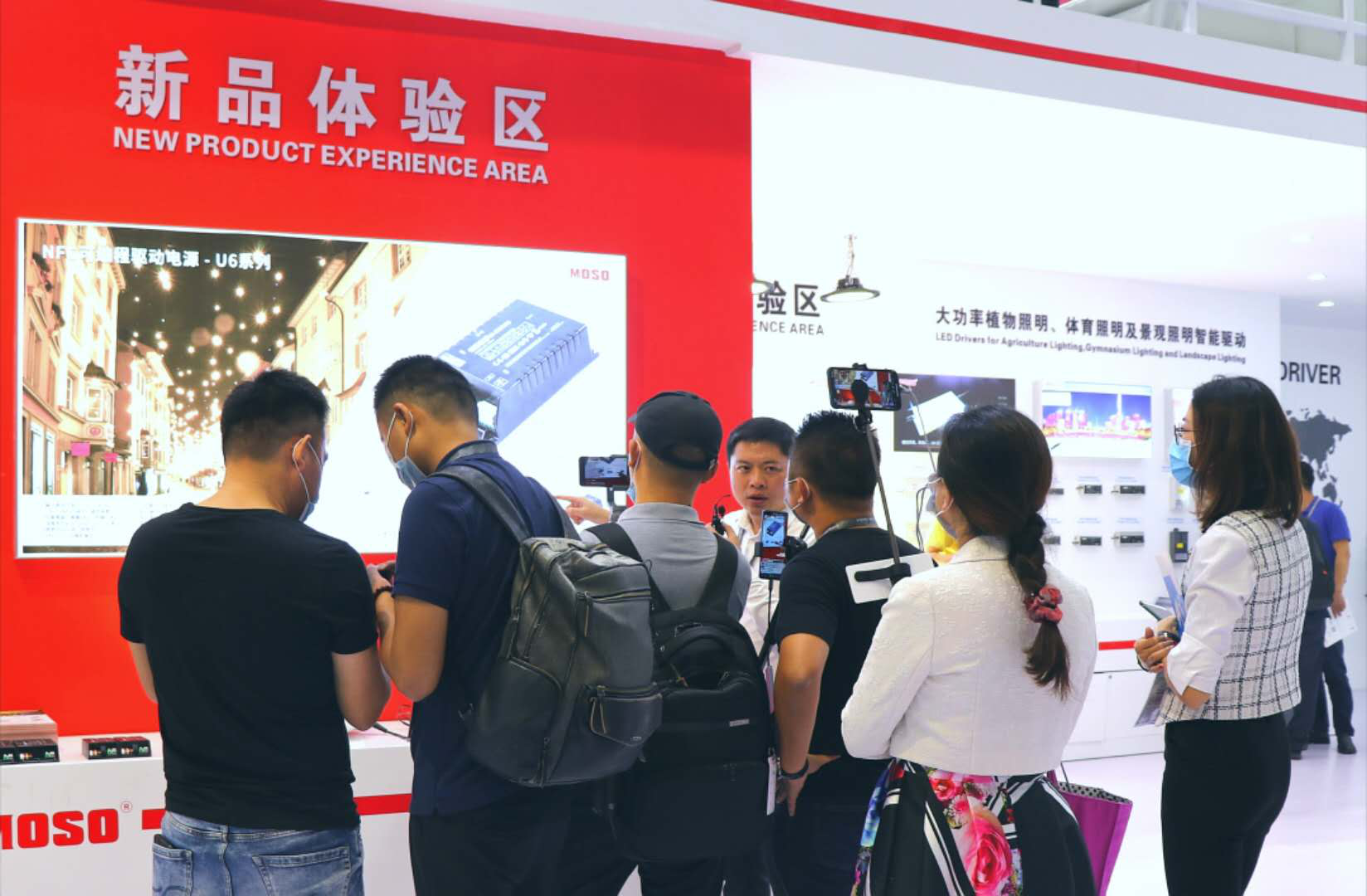 Live webcast sharing U6 NFC power
In addition, the X6 series, a new product launched by Moso during GILE in June last year, has already sold more than 2 million sets. It owns No.1 position on the company's annual list of hot selling star products, and has withstood the test of the market. It still receives much attention from visitors.
Know more about us: https://www.mosopower.cn/